RALLY LEGEND
6 – 9 OCTOBER  2016
SAN MARINO REPUBLIC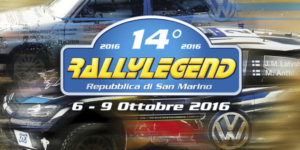 Rally Legend, a real legend along the streets of San Marino. They were 60,000 spectators in the last year special edition and almost certainly it will replicate. The Rally Legend is a real legend in name and in fact.
An event that attracts enthusiasts from all over Europe and beyond. You will be fascinated by the atmosphere as Hayden Paddon have been last year, this is why the New Zealand driver decided to take part in the 2016 rally with his Hyundai i20 WRC. At 29. He is one of the official drivers of Hyundai Motorsport World Rally Championship in 2014, after winning in 2011 the Production World Rally Championship.
You should definitely come!
A competition that for atmoshpere, passion and hospitality is unmatched.